Geboren 1983 in Graz, studierte ich Transmediale Kunst an der Universität für angewandte Kunst. 2002 erfolgte der Schulabschluss an der HLT Bad Gleichenberg als Koch, Restaurantfachmann und Touristikkaufmann. Die Fähigkeiten, die ich mir während dieser Ausbildung aneignete, kamen und kommen mir in diversen übergreifenden Projekten immer wieder zugute. Darüber hinaus bin ich geprüfter Olivenölexperte. Ich war von 2015 bis 2018 als künstlerischer Leiter, Küchenchef und Geschäftsführer der "Migrating Kitchen" tätig.
Die Basis meiner Arbeit bildete die Beschäftigung mit Prozessen, Bewegung bzw. Bewegungsabläufen, Schwarm- und Massenverhalten, soziokulturellen Entwicklungen. Diese Tendenzen finden Ausdruck in meinen interaktiven Skulpturen und Installationen, Photographien, Videos und Koch- Performances sowie Theaterstücken.


Mein Hauptaugenmerk gilt politischen Aspekten unserer Lebensmittelproduktion, Ernährungsgewohnheiten, Selbstorganisation, widerständiger Praxis und Propaganda. Dies sind meine wichtigsten Forschungsgebiete, die ich regelmäßig in der "Kitchen" und anderswo immer wieder in die Praxis übersetze. Mit dem von mir mitbegründeten Projekt "BOEM*" wurden wir für besondere Leistungen im Bereich des interkulturellen Dialogs vom BMUKK ausgezeichnet, 2015 erhielt ich das Wissenschaftsstipendium der Stadt Wien Kultur. 2018 bekamen wir den MigAward mit Migrating Kitchen. Ich war, unter vielen anderen Tätigkeiten, künstlerischer Leiter und Leiter der Produktion unserer Aufführungen bei den Wiener Festwochen, Donaufestival Krems, Kampnagl Hamburg und in Kooperationen unter anderem mit Hausmania Oslo, der Akademie der bildenden Künste, Volkstheater am Hundsturm und der VHS Ottakring.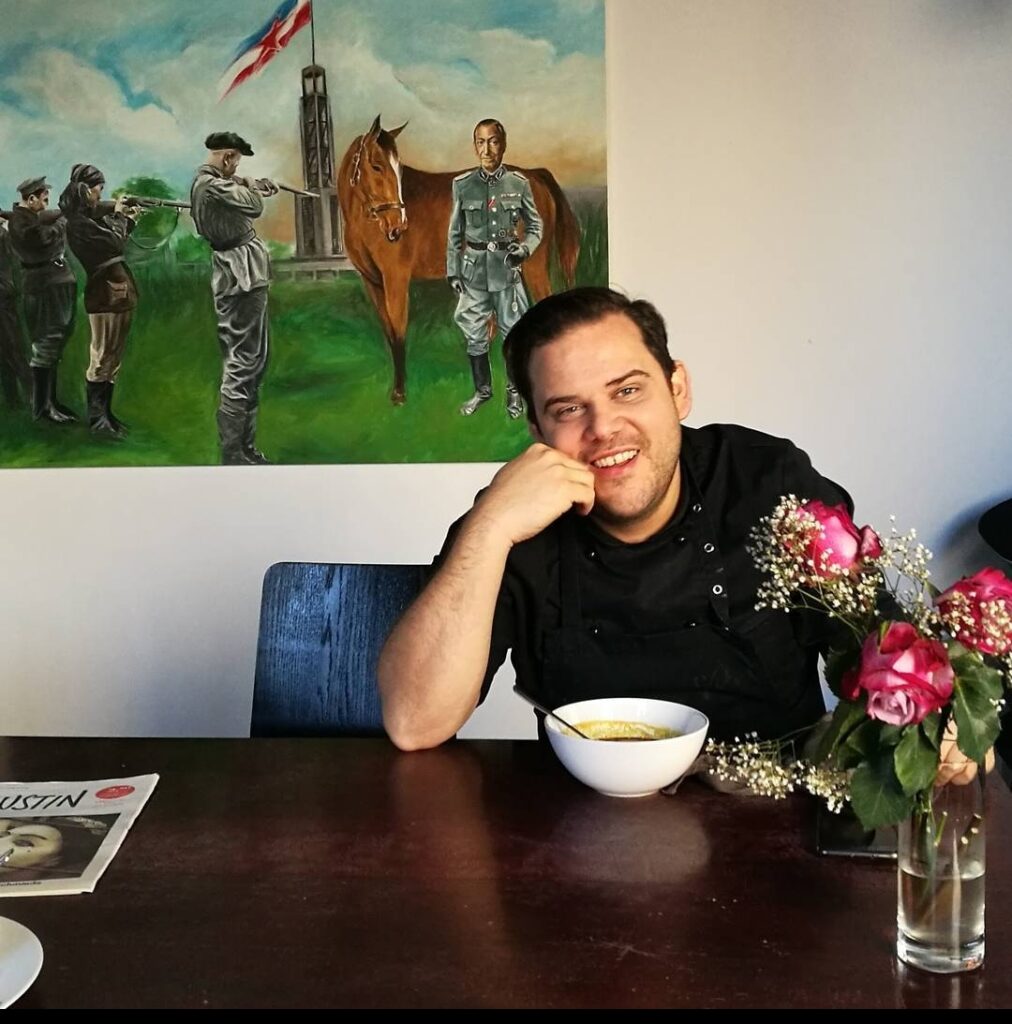 Born 1983 in Graz, Austria, I studied Transmedia Art at the University of Applied Arts. In 2002 I graduated from the HLT Bad Gleichenberg as a cook, restaurant specialist and tourism businessman. The skills I acquired during this education came and still come in handy in various transmedial projects. I am a certified Olive Oil Expert, I worked as artistic director, chef and managing director of the "Migrating Kitchen" from 2015 to 2018.
The basis of my work was the preoccupation with processes, movement or movement sequences, swarm and mass behavior, socio-cultural developments. These tendencies are expressed in my interactive sculptures and installations, photographs, videos and cooking performances as well as theater pieces.
My main focus is on self-organisation, political aspects of our food production, food habits, resistant practice and propaganda. These are my main areas of research, which I regularly translate into practice in the "Kitchen" and elsewhere. With the project "BOEM*", which I co-founded, we were awarded for special achievements in the field of intercultural dialogue by the Austrian Ministry Of Art And Culture, in 2015 I received the Science Scholarship of the City of Vienna Culture. In 2018, we received the MigAward with Migrating Kitchen. I was, among many other activities, artistic director and production manager of our performances and theatre pieces at the Wiener Festwochen, Donaufestival Krems, Kampnagl Hamburg and in collaborations with Hausmania Oslo, the Academy of Fine Arts Vienna, Volkstheater am Hundsturm and VHS (adult education Center) Vienna Ottakring, among many others.